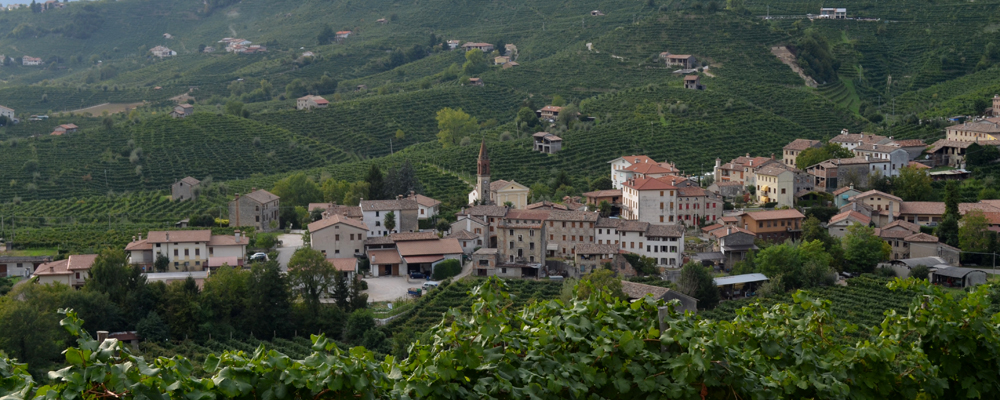 The  Follo
A small group of houses near the torrent Teva; you can also see a few houses and wineries next to the church tower; this village belongs to the "world" of Valdobbiadene Superiore. An old millwheel still exists. In the past it was "Follo" and it was used to full the wool; nowadays it is the pressing of the grapes.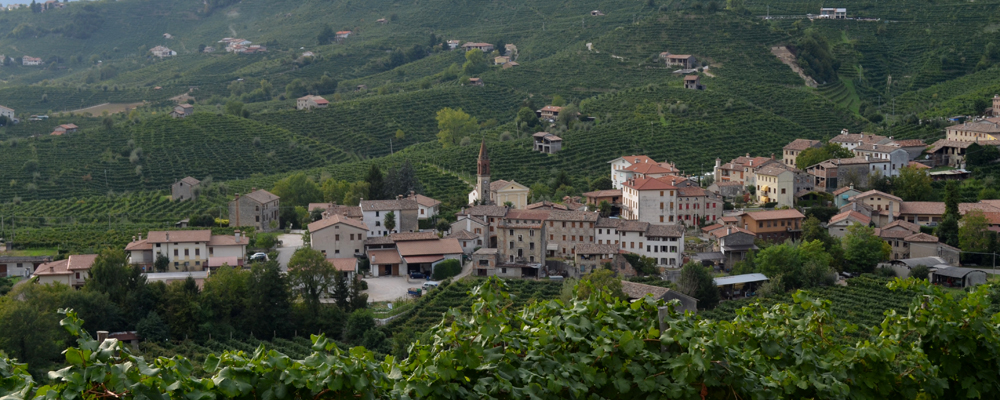 The "Glera"
The origin of the local vine PROSECCO has inspired endless debates. The success of our wine is too big : so many people have claimed the authorship of it.  Finally, the historical and scientific research has definitively attested that the vine "father" of grapes PROSECCO is the "GLERA". Nowadays   Glera (from Glaera ?Gravel?) is still present on the hillsides of Carso in Trieste where you can find  a small village called  Prosecco. The story of Prosecco started from there and it reached the top  among  the hills  of Valdobbiadene and Conegliano. At Valdobbiadene the vine expanded on the hills and slopes of Santo Stefano to the mountains in the north and to Follo in the south.
The Seasons
Spring lights up with all green shades, from the" Selene", the dandelion, the hop, the violet and the primrose; the slow Summer with its fresh wind from different directions.
The "golden" Autumn, time of the" great grape harvest", then Winter with the quiet and silent rest of the earth.
Then Spring ……again!
The Vineyards

Our vineyards are located on steep slopes facing the Follo and they are clearly visible from our winery.
– The winter pruning is made using wooden stakes and willow shrubs.  The vine branches left from the pruning are packed up by hand, and in part utilized for the fireplace.
– The fungicidal treatment, in summer, are limited with certified products.
– The mowing is done by hand and the grass is placed   on the ground of the grapevines to feed them.
– The grape harvest is also manual.
– The small winery is next to the house:  inside it the steel has replaced the old wood of the homemade barrels of our grandparents. The steel ensures maximum hygiene and a slow fermentation.
Le nostre vigne, giardini permanenti dove in ogni stagione è possibile cogliere fiori e vivere suggestioni impagabili, si prestano al passo lento del turista e non hanno mai subito la violenza delle macchine. Unici intrusi, tra i filari, il passo laborioso del contadino e il guizzo di lepri e fagiani.
Le macchine intanto invadono i fondovalle e l'Oltrepiave, dal quale ci distanzia l'armonioso silenzio dei nostri aviti casolari dove risiedono  storia e  bellezza.
Siate i benvenuti.